AWARDS AND SCHOLARSHIPS 
ASMIRT Awards
ASMIRT 2019 Award Winners – ASMIRT is pleased to announce the following Pioneers, Life Membership, Ian Roos Award and Nicholas Outterside Medallion recipients for 2019. The following prizes were awarded at ASMIRT/AACRT 2019 – congratulations to all our winners.

Pioneers – Nick Woznitza and Joycelyn Cottrell
[interviewed by Julie McCrossin – above]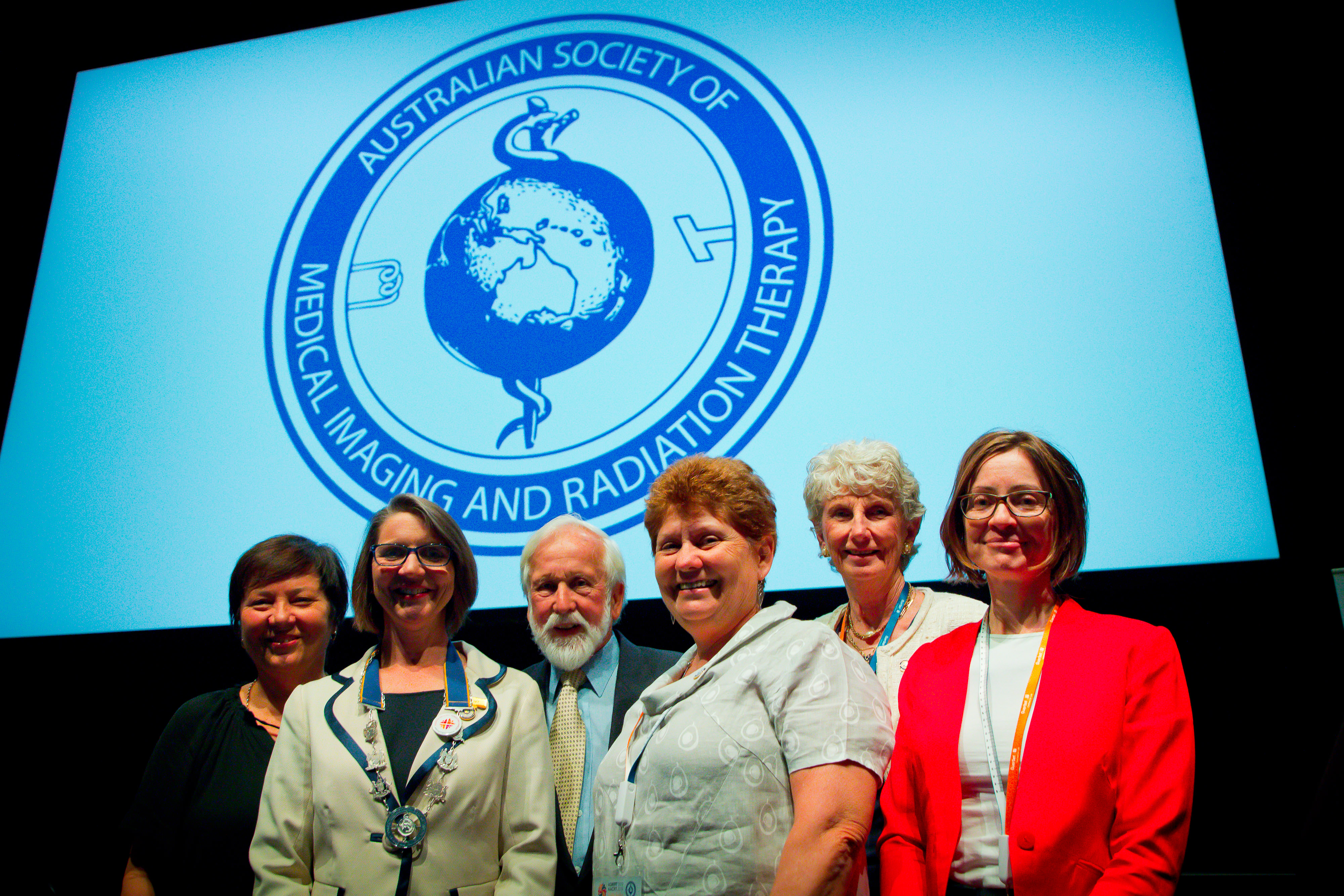 L-R: Julie McCrossin, Bronwyn Hilder (ASMIRT President), Graham Tidswell, Jennie Baxter, Carolyn Astill (2017 Life Member recipient), Rachel Kearvell.
Varian Award – Rachel Kearvell. Awarded to a radiation therapist who has made a significant contribution to the field of radiation therapy. To learn more about the Varian Award, click here. Nominations for the 2020 Varian Award will open August 2020. 
Advanced Practitioner Award – Teagan Wilde. This is the first time this award has been given in Australia. Awarded to members of the Australian Society of Medical Imaging and Radiation Therapy who have met the criteria of Advanced Practice as defined by the ASMIRT Board of Directors.
Life Members – Fiona Jeffs (in absentia) and Jennie Baxter. Awarded to those retired members in recognition of the significant contribution that they have made to the Australian Society of Medical Imaging and Radiation Therapy at a state and national level during their professional working life.
Nicholas Outterside Medallion – Graham Tidswell. Awarded to members of the Australian Society of Medical Imaging and Radiation Therapy who have significantly contributed to the Society over many years.
Ian Roos Award – Julie McCrossin. The Ian Roos Award may be awarded by the Radiation Oncology Alliance to any consumer involved in health care advocacy, particularly in radiation oncology, including (but not restricted to) those consumers involved in Board, Council, committee or working group activities of the Royal Australian and New Zealand College of Radiologists, ASMIRT, the Australian College of Physicists, Scientists and Engineers in Medicine, and the Cancer Nurses Society of Australia.
ASMIRT Pioneers – Nick Woznita and Joycelyn Cottrell. Awarded to the pioneer who typically is retired and a resident of the State in which the ASMIRT Conference is to be held. Selection is made by the relevant State Branch Committee who notifies the CEO and Convenor.
Papers and ePosters
Harold Anderson Memorial Diagnositc Student Prize (Paper) – Jacky Chen The effect of visual hindsight bias on radiologist perception 
Harold Anderson Memorial Radiation Therapy  Student Prize (Paper) – Daniel Hughes Literature review on efficacy and toxicity of hypo-fractionated radiotherapy to the prostate compared with conventional fractionation 
Diagnostic Prize (ePoster) – Shayne Chau Establishment of facility reference level in computed tomography in selective examinations in a single institution in South Australia
Radiation Therapy  (ePoster) – Linda Bell Post-prostatectomy intra-faction motion management: how much do our patients move during treatment and how to decrease the risk of geographic miss
Diagnostic Prize (paper) – Caitlin Steffensen Development of a tailored critical appraisal tool for studies of image quality
Radiation Therapy  (paper) – Nigel Anderson Feasibility of a virtual reality intervention for the reduction of parent/patient distress and anaesthesia requirement during paediatric radiotherapy 
Please note: Paper and ePoster prizes are only awarded to those who are current financial members of ASMIRT and who fit the category of the prize. These prizes are adjudicated throughout the conference (with no input from the prize sponsors), and the announcements are final with no further discussion entered into. The above awards may be awarded at the conference, though is subject to a nomination and approval process.
For more information on how these awards are nominated and awarded please contact conferences@asmirt.org 
The Nicholas Outterside Medallion
Nicholas Outterside commenced his duties in radiography in Sydney in 1926 and within a few short years saw the need for a corporate body for the profession. During the 1940's he did much to consolidate the work and interest of radiographers and, elected by his fellows, he became the first President of the then Australasian Institute of Radiography (now the Australian Society of Medical Imaging and Radiation Therapy) on its incorporation in February 1950.
Through his pioneering and industrious endeavours, the Institute (now Society) was built on a firm foundation as it progressed through to a mature professional body. 
In 1981 it was suggested that a National Award be given annually in memory of Nicholas Outterside. This will be in the form of a Medallion, which will be awarded at the discretion of the AIR (now ASMIRT) Board. No recipient of the Nicholas Outterside Medallion will be considered for a second award except under exceptional circumstances. e.g. for an exceptional discovery, invention, etc.
Conditions of the Award:
1. Each Branch or Sub Branch Committee may submit to the ASMIRT Board of Directors each year the name of one member, or Fellow or other worthy person who has:
a) contributed materially over many years to the service of the Society and its Members:
and/or
b) by example to, and in the training of radiographers / radiation therapists, upheld, passed on and added to the tradition of radiography / radiation therapy over many years:
and/or
c) been responsible for the development and publication of outstanding original technique or research in specialised or general radiography, radiation therapy:
and/or
d) made remarkable achievements in or outstanding contribution to the art and science of radiography / radiation therapy.
The ASMIRT Board may, at its discretion, also award Medallions to up to two other persons for the same reasons.
In 2018, the Nicholas Outterside Medallion was awarded to Graham Tisdwell and presented at the ASMIRT/AACRT 2019 Conference in Adelaide. Previous winners include Mark Bower, Janet Brook and Rob Hart in 2017, and Min Ku and Gregory Rattray, awarded in 2016.
ASMIRT Scholarships
Each year ASMIRT offers a range of scholarships to members as support while they undertake personal and professional development activities. The scholarships available include the International Travel Scholarships, Research Scholarships and the Rural Clinical Placement Grants. Interested ASMIRT members are encouraged to read the information available and consult the application guidelines for each individual scholarship.
2019 International Travel Scholarship Winners – Read more
Nicholas Gatehouse – Jacqueline Spurway – Katelyn Cahill
2019 Research Scholarship Winners – Read more
Professor Rob Davidson – Scott Jones
2017 International Travel Scholarship Winners – Read more  
Jodi Mitchell – Lloyd Smyth – Rebekah Onsley – Nancy Grull
2016 Research Scholarship Winners – Read more
Laura Di Michele – Dr Caroline Wright
International Travel Scholarships 

Each year ASMIRT is pleased to offer four International Travel Scholarships to current members of ASMIRT. Two Early Career scholarships are offered for $3500 to Early Career ASMIRT members, one in diagnostic imaging/nuclear medicine and one in radiation therapy. Two $5000 scholarships are offered to Voting Members, one in diagnostic imaging/nuclear medicine and one in radiation therapy.
The aim of the scholarship is to assist ASMIRT members to experience medical radiation science on an international stage such as attendance at an international conference, participation in an international training program or the undertaking of small study tours.  Practitioners are encouraged to share their experiences with their colleagues on their return to Australia. Members who are interested in applying should keep an eye out for details in the July, August and September editions of Spectrum and on the website.  Guidelines and application information will be posted on the website from July each year.
Application open dates for 2021 – TBA
ASMIRT Travel Scholarship Guidelines & Application – Early Career 2020
ASMIRT Travel Scholarship Guidelines & Application – Financial Voting Member 2020
Travel Scholarship Assessment Matrix 2020
Applications close 3 October 2021
Due to COVID-19 and the inability to travel in 2020, there will now be two sets of International Travel Scholarships offered for 2022.
ASMIRT Rural Clinical Placement Scheme
The Rural Clinical Placement Scheme is available one grant per calendar year for each university that offers Approved Undergraduate Medical Radiations Science programs in medical imaging and radiation therapy. Additional grants may be awarded to those States where additional applications have been received. Each grant is to the value of $500.00 and can be used by the recipient for the necessary travel and accommodation. The aim of the grant is to support and promote rural health initiatives. 
The successful applicant is required to write a reflective report on the experience for publication by ASMIRT and be willing to participate in evaluation studies or surveys regarding allied health in the rural setting.
Applications should be made as soon as possible in each academic year.
2020 Rural Clinical Placement Scheme Winners 
Semester 1

Semester 2

Alisha Lynch

Lauren Renshaw

Darryn Lee

Phuong Nguyen

Belinda Lim

Lei Shao

Hayden Copping

Sarah Wu

Brooklyn Young

Lisa Peng

Kian Phu

Stella Oh

Dakota Webb

Madeleine Watson

Merrick Cox

Taylor Hunter-Boyd

Ellisa Seow

Mark Chan

 
 

Lauren Farrugia

Sophie Frolley

 
 
2021 APPLICATIONS NOW OPEN
Download the Guidelines
ASMIRT Rural and Remote Practitioners Reference Group – Rural Clinical Placement Scheme Guidelines 2021
Applications close:
Semester 1: Friday 16 April 2021 – Download form
Semester 2: Friday 17 September 2021 – Download form
ASMIRT Research Scholarships
The Australian Society of Medical Imaging and Radiation Therapy (ASMIRT), through the Research Lead Committee, offers research scholarships to enhance the research base within Medical Radiation Science.
ASMIRT will award up to two research scholarships per year in the fields of medical imaging and radiation therapy. Applications from nuclear medicine technologists will be assessed under the medical imaging category. Each of the reimbursement scholarships will be for up to a maximum of $10,000 (including GST). The scholarships are designed to encourage researchers to develop projects which will add to the body of knowledge of the Medical Radiation Science profession. The successful candidate will be required to publish the outcome of their work in the Journal of Medical Radiation Sciences or other peer reviewed journal and to present at the Australian Society of Medical Imaging and Radiation Therapy's National Conference (ASMIRT).
Application open dates for 2021 – TBA
Research Scholarship Guidelines 16.09.2020
Research Scholarship Pre-Assessment Matrix 2020
Applications close 3 October 2021
For all enquires regarding Scholarships, please contact the ASMIRT Professional Standards Manager, Min Ku, at info@asmirt.org